Chinese video click here http://v.youku.com/v_show/id_XODU2ODI5Nzgw.html
World video click here https://www.youtube.com/watch?v=_9vJqQQVP8c
Attention: the original R-SIM 10 can be upgraded. The new one is on the way to be perfect and upgrading. When finished upgrading, original R-SIM can support upgrade. Please Scrap anti-counterfeiting code in package when order to check real or not. Test web: www.r-sim.me.
1. When put the r-sim 10 with tray and sim card into your iphone, you will show the page below, in which you need to choose the carrier. If there is no carrier you want, please click "input imsi" and enter in 7 digits carrier code of your carrier(if you choose a wrong carrier ,you need to plug out the card and input again).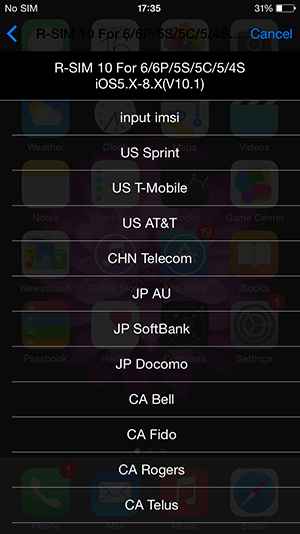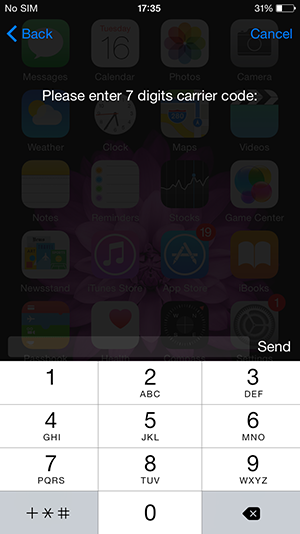 2. After chose the carrier, you can choose the correct machine and right SIM card mode as the below picture: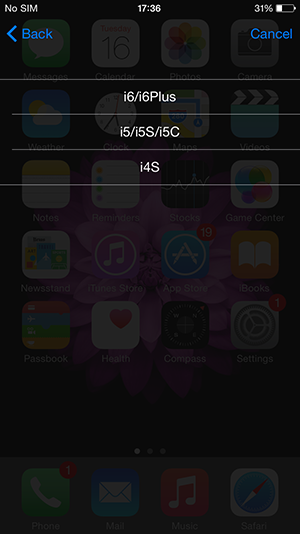 3. Choose the way you like to unlock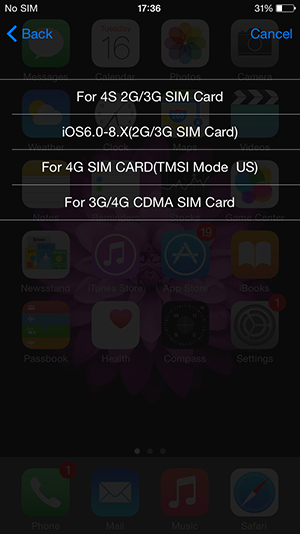 "For 4S 2G/3G SIM Card" this option is used for 4S to get 3G signal( for 2G/3G SIM card).
"Ios6.0-8.X(2G/3G SIM Card)" this dual mode unlocking method can suit for almost all iphones work in 2G mode(under such mode, no jumping activation, 2G network, like using the R-SIM 9PRO) .
4. Click "For 4G SIM CARD(TMSI Mode US)" option, M1 and M2 will show(the reactivation mode, for 4G SIM card can get 4G network, but not stable, you can choose "Restart SIM Card"in sim application so to restore the reactivation ).
The two mode means: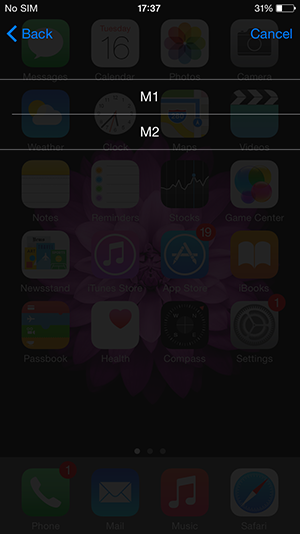 M1-> means ringing reminder, you need to as following:
Unlocking Sprint machine, above 7.1 (support unlocking 2G/3G/4G card of other carriers) is not stable cause using TMSI unlocking method. After the ringing voice, get card out and input again to wait the signal comes. If no signal or can not get network, please choose
M2-> the automatic searching mode (under M1 mode, it will ring when lose signal, but it will search signal automatically if no signal)
Choose this mode , the below page will come, please wait the signal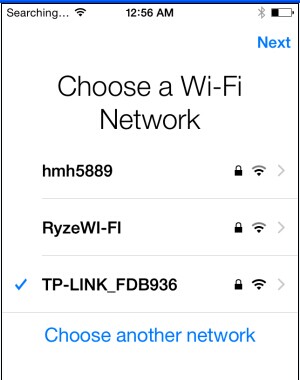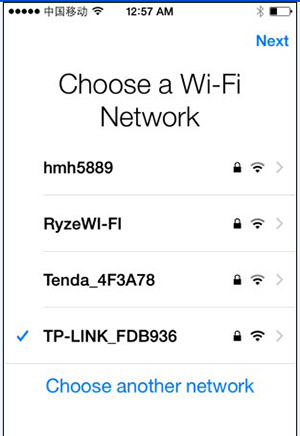 After signal come, click NEXT, (need to get internet in such mode)
"For 3G/4G CDMA SIM Card" is for unlocking network of CDMA (suit for 3G/4G SIM card). Under this mode, CDMA/Sprint/AU/SB machine can use CDMA SIM card after jail broken and installed patch. 4G CDMA SIM card can get 3G network.
5. When chose needed mode, please click "accept" then power off to wait the signal come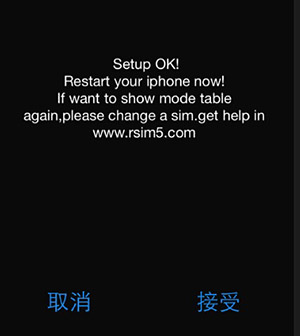 6. Click "setting up – phone- sim application"the menu of R-SIM 10 shows
Click "Selecet Carrier", choose the carrier. click "Edit IMSI , can enter 7 digits carrier code. "Get Carrier Code", can copy SIM code of your SIM card (this mode is used for these guys can not find their carrier code in the list). These guys can find their original SIM card and put inside the machine with R-SIM10. Then go to the sim application to click "Get Carrier Code"," Restart sim Card". After click it, can avoid the reactivation to anti-jumping. If no signal under TMSI unlocking mode, please click "Get Carrier Code", "Restart sim Card" to gain the signal. "Lock Carrier" is to lock the carrier. After choose the carrier, can lock it even if you change sim carrier, on off phone or across the base station, there is no need to unlocking again.
Used for anti-jumping, If no signal under TMSI unlocking mode, please click the r-sim 10 for 6/6p/5s/5c/5/4s ios5.x.7.1-8.x (v10.1)